Far As the Curse is Found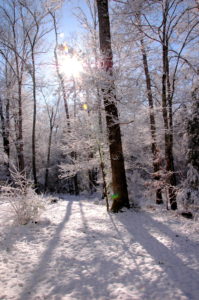 We drove home from Ohio the other night. The air smelled like winter, and strings of lights hung like halos around picture perfect houses, but there was something not right hanging low on the western horizon.
Smoke.
There are these places burning in the Appalachians. Memories and plans burning to the ground, and the hungry fire roars on.
There are these songs on the radio about how all is calm and all is bright, while the flames turn beauty to dark ash.
There are these toys in store aisles, and there are these parents burying children taken out by a madman on a school bus.
There's this woman, this sweet friend with a brilliant smile, who just heard that her cancer is back and growing fast. And there's this husband and son being brave and working hard to make holiday memories, just in case.
There are these families breathing the burning dust of hatred in the Middle East, and these little ones who already know the taste of despair, and these mamas aching for wayward kids, and these people carrying the weight of shame.
The echoes of choices made in a Garden a long time ago shake us far and wide and deep.
We all have felt it. All of us. And if we let the pain peel another layer from our hearts, we are soft to feel the suffering of our brothers and sisters, and it drives us to our knees.
Come, Lord Jesus.
And there are these promises that He is coming, that He has come. There are these tiny figurines in little stables, retelling again the world's best story, the one of this God who stepped into skin and into our shattered world. There are these little lights twinkling against the dark, and there's this Light standing against the darkness that can't overcome it.
There's this Grace that's pouring out, seeping into the deepest cracks and farthest corners, restoring the impossibly broken and bringing life from ashes.
And there's this song on the radio.
No more let sins and sorrows grow
Nor thorns infest the ground
He comes to make His blessings flow
Far as the curse is found
There's this Hope. There's Hope because Jesus came to stand face to face with all that isn't right, to cuddle us close, and heal every busted up, burned down thing.
Far as the curse is found.
"The people who sat in darkness have seen a great light. And for those who lived in the land where death casts its shadow, a light has shined." ~Matthew 4:16 (NLT)