Here and There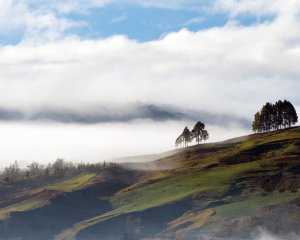 There's something about the way this afternoon is spread out all grey and misty over the valley that makes me homesick. Maybe it's the mountains sitting silent behind the fog, so different than the rolling plains of the central Carolinas. Or maybe it's just that we've been in Papua New Guinea for four months now, the longest I've been outside the States since I was fourteen.
Whatever the reason, I've felt all day like I can't take a full breath past the lump in my throat. And it's not a day I could hide away from people. First a worship service, then a birthday party for a good friend's son.
Smile.
Small talk.
Try to will the eyes to stay dry.
And then the moment when someone asks if I'm glad to be here.
Yes, friend, yes I am. There's not a shred of me that believes we should be somewhere else. But I'm not a good pretender, and I can't quite make the smile reach my eyes.
But maybe I don't need to. These people I'm trying to smile for, they've all been here. Some of them still are.
They get that you can love one place and still ache for another. That you can thoroughly enjoy people on one side of the world while grieving for missed moments with people on the other side. That you can be fully invested in the present and still hear echoes of what came before.
My heart is here, and it's there, too. I knew it would be. But when the homesickness rolls in heavy like today's clouds and hangs for a while, the intensity can take me by surprise, and I have to remind myself of some things.
Being homesick doesn't make me a bad missionary. It makes me a person with feelings.
Deeply loving places and people gives me the capacity to deeply love more places and more people.
Some days could just use a tight hug. It's ok to ask for one.
The feelings of today aren't necessarily the feelings of tomorrow. When the sun comes up and burns away the fog, I'll see flowers and friends and new mercies all glistening fresh, and there will be joy.
And more than anything, no matter what, the same good God who was there is here, too.
And that is enough.