Learning to Dance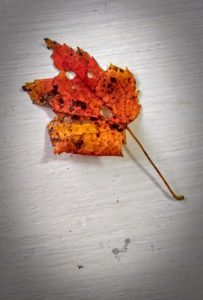 A little leaf hitched a ride in the door on the bottom of my sock. It's one of those days when the sky is just gray enough to make the rusts and yellows of the trees look a bit other-worldly, and I couldn't make myself pause to put my shoes on. It wasn't long ago that it was honeysuckle and fireflies pulling me outside, and before that it was dogwoods uncurling their petals like victory flags.
Every day it's easier to trace the branches that are letting go of their leaves, bare and unafraid and standing just as tall as ever. They settle in for another time of rest, because that's the way it's supposed to be. Nature swings and sways its way through the rhythm of seasons like it's slow dancing to a melody we can't hear yet.
It's my fortieth November, and maybe I'm finally starting to get it.
I stood this morning in the room where I met my husband. We've spent a lot of time in that room in the twenty years since, teaching Bible studies, playing crazy youth group games, worshiping with missionary kids from around the world, and watching our own girls grow. My husband and I played guitar and led some singing for a group of missionary kid caregivers, like we've done there for more groups of people than I can count. And then we were done, and we left the youth ministry building.
And it was okay.
Not just because we know we're welcome there anytime we want to volunteer. But because we're learning to dance.
It isn't always easy when one song ends and another begins. The tempo changes and we have to learn new steps that don't feel quite natural at first. My daily dance right now looks an awful lot like a leaf spinning and dipping its way through the wind. And as soon as we've raised our full ministry budget and I begin my role as a writer for our organization, my rhythms will change again.
This is my one hundredth blog. One hundred little glimpses of our life over the past five years. And the one consistent thing throughout all of them is change. The lanky pre-teen has become a young woman with passion and depth, and the curly headed toddler is now a creative, hilarious elementary student. We've been back and forth over the Pacific Ocean a couple times, we've spoken new languages, loved new people, and said some really hard goodbyes. We've grieved deeply and then even more deeply, been broken and healed, found our feet on some unexpected paths. The rock and hum of our days rolls on, sometimes like a symphony, sometimes like a suspenseful movie soundtrack, sometimes like a lullaby.
And all the while our gentle Dance Partner leaning close to guide our steps. I can be stiff and awkward, resistant to being led. And there He is persistent and strong, patient to keep my feet from stumbling. Forward, back, and around in circles, with Him never once letting go.
"The steps of the godly are directed by the LORD. He delights in every detail of their lives. Though they stumble, they will not fall, for the LORD holds them by the hand." ~Psalm 37:23-24 (NLT)
"Your principles have been the music of my life throughout the years of my pilgrimage." ~Psalm 119:54 (NLT)