One Foot, Two Foot, Sure Foot, True Foot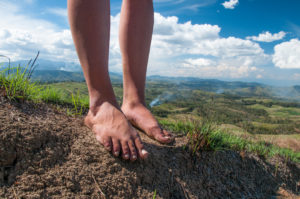 I wonder how they felt there perched on the edge, those men and women and little ones getting ready to put themselves between impossible walls of water. I wonder if that first step down the bank was hard, with the unnatural path ahead stretching long and dark. The line must have been slow, all those people and animals carrying everything they owned, plodding on through the night hours.
There was the pillar of fire back behind, a bright and terrifying promise of rescue from an army bent on their destruction, but up ahead all they could see were people's backs and a flood piled high on either side. Safety was still a long walk away.
That night the Israelites' faith looked like footsteps. They were scared and angry at Moses, not sure they believed that God was really rescuing them from the Egyptians. They could have turned back, could have given up and sat down, but when the water opened up they moved.
Take a step.
Remember the miracles.
Take a step.
Remember the promises.
Take a step.
In spite of the fear.
Take a step.
Each step a decision to believe enough for one moment. And those moments became minutes and then hours and then there they were all standing on the other side watching God overwhelm their enemies.
What made their footsteps firm wasn't their confidence or courage. It was the solid ground beneath their feet, a way forward that could have only been provided by God. They didn't have to know how it happened or how long it would hold, just that the next little patch of ground was still dry.
That's good news for me, friends. I can clearly see God's rescue behind us, ways that He's swooped in and placed Himself between my family and things meant for our destruction, and I can see that He's leading us forward into the next season of ministry. But this in-between path of building our financial partnership team… It's long and so much slower than we had hoped. We want with everything in us to be on the other bank, ready to launch into the important work that's waiting for us. The amount of our ministry budget that's still missing feels impossible some days, dollar signs moving at a snail's pace and looming walls of doubt and insecurity on either side.
And here we are forgetting that we walk a miracle road.
I don't have to see how we'll muster the energy to get from where we are to where we're going – in ministry, in parenting, in any area of life. I don't have to be holding onto enough faith to make it all the way to the other side.
Just take a step.
Remember how God has provided.
Take a step.
Remember how He's been faithful.
Take a step.
Remember how this ministry, these kids of ours, these days ahead are really all His.
Take a step.
One moment of obedience leading into the next and the next. Every inch forward on miraculous ground. And then there we'll all be, standing and looking back at miles of second-by-second victories, just overwhelmed and grateful.
"The LORD himself will fight for you. Just stay calm." ~Exodus 14:14 (NLT)

"Teach me to do your will, for you are my God. May your gracious Spirit lead me forward on a firm footing." ~ Psalm 143:10 (NLT)