Scars and Stories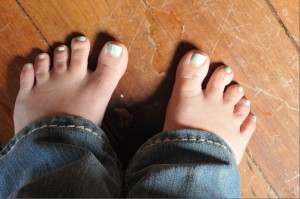 The wooden floor in our dining room is scratched from years and years of chairs being pulled up to the table. It's not pretty. The varnish is peeling, and the discolored planks are grooved deep. This floor has stories written across its grain, generations of stories of missionary families from all over the world who have lived here. Bare little feet running in at dinner time, conversations in Japanese and English and Tok Pisin, homework and letters home and family game nights. Every scar in the wood has history.
Scars have always intrigued me. They speak of life lived and lessons hard learned. I have a shiny white one on my left foot from when I was eleven and thought mud sliding in the garbage dump sounded like a good idea. (Lessons learned: broken glass is really sharp and tetanus booster shots hurt.) The stretch marks on my belly are reminders of how it felt to wait, round and eager to see my girls' tiny faces.
Then there are those heart scars, the ones it's easy to hide.
And we do hide, don't we?
As if we don't all have souls ripped open, in various stages of being restored.
A friend of mine says some soul wounds are precise and surgical, and some are torn jagged. We still see them long after they've healed.
Like the one, thick and bright, that runs the length of my mother-in-law's chest. The surgeons had no time to waste trying to make the cut pretty. Her aorta was rupturing, and they had to crack her fast and wide to save her life. That scar, it's a precious thing, because it means she's still here and able to walk the length of their gravel road, able to laugh over a Skype call and listen to grandkids' stories and wait there in her little red house to hug us tight when we get home on furlough next year.
Sometimes an ugly scar is the most beautiful thing in the world.
There's no shame in being wounded, being ripped open and rescued. There's glory in those jagged scars that stay long and tell stories.
There is worship in our scars, in the telling of the ways we've been broken and held together and made new.
Beautiful, beautiful scars.
Beautiful rescue wounds healed by Hands that hold their own glory-soaked scars.
"But he was pierced for our transgressions, he was crushed for our iniquities; the punishment that brought us peace was upon him, and by his wounds we are healed." ~Isaiah 53:5 (NIV)