The Broken Body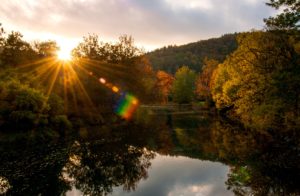 A few weeks ago I went through some testing for several autoimmune disorders. The tests eventually came back normal, but while I was waiting for the results, I started hearing story after story from people who were living with everything from lupus to rheumatoid arthritis. When a body starts to attack itself, it's not a pretty thing.
Something that's supposed to function as a unit starts to have all kinds of issues when it turns its weapons inward.
We Jesus followers are intimately familiar with the ugliness of internal conflict. We're all a bunch of humans, with a tendency to act really human-y. We limp ungracefully along, looking more like the Bride of Frankenstein than the Bride of Christ.
The Church, the Body of Christ, is a giant, complicated mess, with as many backgrounds, opinions, personalities, and areas of brokenness as there are members. And we're supposed to be unified. Jesus said so.
I've been doing a lot of thinking recently about unity, and I feel that I'm coming to a different understanding of it than I've had before. It looks less like butterflies kissing rainbows in an everybody-gets-along kind of world, and more like a breathlessly gory struggle with hard truths. As difficult as it can be to imagine, there is a day coming when we really will all get along as we stand shoulder to shoulder before God's throne, our worship sweeter because of each other's presence. And I'm convinced that we can't work toward real unity without that eternal perspective.
Because, people, this oneness thing is hard. We're still so tangled up in our flesh that we can be pretty horrible to each other.
The long journey toward unity within the Body of Christ is not a feel-good process, because it's all about looking sin in the face, calling it what it is, and wrestling it to the ground. It's about laying down our right to be right, to be heard and vindicated. It's about letting go of the assumptions we have about other people's thoughts and motivations. It's about facing down the fear we have of being uncomfortable, out of control, misunderstood. It's even about speaking up, outlining appropriate boundaries, saying no when we need to, and gently drawing each other's attention to areas where our lives don't line up with what the Bible says. And it's the humility to admit we're broken and maybe even wrong.
Sometimes working towards unity looks like letting go and giving the Spirit of God the time and space to heal deep wounds in us and others, restoring unity first between us and Him. Until I'm right with Him and you're right with Him, the way we see each other will always be warped.
Our vision towards each other is only clear when we're looking at Jesus, remembering the body of Christ punished and gory so that the Body of Christ can be restored and whole. Complete, unshadowed unity looks like all of us on our knees, on our faces, worshiping with one voice the God who broke Himself to put us back together.
"My prayer is not for them alone. I pray also for those who will believe in me through their message, that all of them may be one, Father, just as you are in me and I am in you. May they also be in us so that the world may believe that you have sent me. I have given them the glory that you gave me, that they may be one as we are one: I in them and you in me. May they be brought to complete unity to let the world know that you sent me and have loved them even as you have loved me." ~John 17:20-23 (NIV)