The Light at the Bend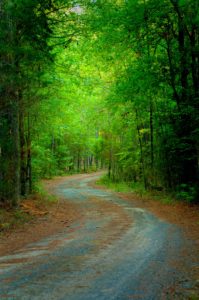 Our road just bent in a way we didn't expect and didn't want.
We will not be returning to our home and ministry in Papua New Guinea.
This seems sudden, I know. And in a lot of ways it is. But in other ways it's been coming for a year.
Friends, we've just walked through a really dark season, and only now are we slowing down enough to realize the full weight of it. Much of what happened in PNG is something we can't share, but like most real stories it's littered with shards of broken people. It's a hard, messy story, and we can't pretend that away.
A few months ago, a dear friend said to me, "You've had an awful lot of ashes this year, but I want to hear about the beauty."
She's right. The ashes are undeniably real, and there's no getting back some of the precious things we've lost.
But the beauty… That's the real story.
I used to think that happiness and sadness were opposites, mutually exclusive. But they aren't. One doesn't cancel the other out or even lessen its impact.
I can't measure the pain of the last year. There aren't words to wrap around it. And I think the ache is going to stay to some degree for a long, long time. But that's not the main thing we'll take away from our time in PNG. Our days there were much more about gardenia-scented breeze through open windows, clothes on the line, birdsong, wood smoke, and babies on their mamas' back.
Life was kids and dogs and friends all a-tumble in the back yard.
It was rowdy students in the youth office, jostling each other as they played foosball and chess.
A good friend with her guitar and me with mine, our voices blending harmony.
High school girls all over our living room, telling stories and laughing together.
Our five-year-old hanging laundry with our friend Beris, chattering in a high speed mixture of Tok Pisin and English.
It was late afternoon walks around the neighborhood with my husband.
And holiday meals with long-hoarded cans of cranberry sauce.
And cutting a friend's little boy's hair on their veranda, looking out at the green hills.
My Bible study ladies, all vulnerable and teary and bearing each other's burdens.
It was my strong husband, gently unfolding Scripture truth in a teen-packed room.
Early morning mist.
Cups of coffee and tea with heart sisters.
Long hours of painting sets for school plays.
My big girl singing rich alto with her choir.
Making everything from scratch.
Mounds of market strawberries.
Worship nights and game nights and so much laughter.
It's all this that makes it hard to breathe around the tears.
It's the glory in all this that makes me ache and gives me hope.
Because, like all real stories, it doesn't end with broken shards; it ends in the shining glory of God spilling over all of it, sweeping up the pieces and putting them back together more beautiful than before.
We may be moving forward with a bit of a limp, but we're moving forward.
And, friends, there's light up there at the bend in the road.