When Grief Changes Clothes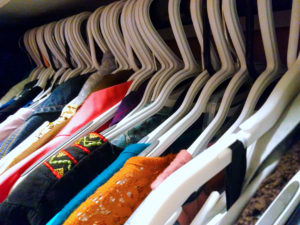 A friend asked me the other day how I'm feeling this anniversary of my mom's death. It will be seven years next week.
How is it already seven years?
How is it only seven years?
My friend knows something you can only know by experience: that every year grief looks different than the year before. The first anniversary's grief was still wrapped in breathless disbelief that it really did happen. The second was hollow and tired. The third didn't hurt as badly, but the fourth was like being hit by a train. This year's grief is like an echo of all the words that would have been spoken, the things my mom would have said if she had lived to see my girls growing up and to witness the courageous ways we're choosing healing over bitterness.
Grief has a large wardrobe, and it rarely shows up wearing exactly the same thing as it did before. Sometimes it has the colors of sadness, sometimes rage, sometimes empty numbness. Sometimes it looks like a low hum of anxiety, and sometimes it's wild eyed fear. Sometimes it's a tint around the edges of sweet moments, the shadow of something missing.
A lot of the time grief over one loss comes in with its arms wrapped tightly around other griefs, and it can be hard to see where one ends and another begins. They all demand attention at once until we can't feel anything but overwhelmed.
Our family is in a beautiful season here. Our girls are flourishing, my husband and I both love what we're doing, and everybody's healthy. I guess that's why the intensity of this current rush of feelings has caught me by surprise. As we've opened the door to new and exciting adventures, there's an ache tumbling in on the heels of joy.
I sat there the other day, curled in my friend's overstuffed chair, and told her that I don't want to sort through losses right now. I'd like to just soak in the beauty for a time and ignore how it reminds me of the dreams and loves we've buried. Her dog came and laid its fluffy, goofy head on my lap and stared up as my friend quietly reminded me that we have to welcome the grief to move it forward and make room for good things coming. Then she laughed and called that dog by name and told her to move along. And the dog did, just like that.
Grief can push in like that big puppy, insistent and expectant, wanting to be recognized and named.  But recognizing and naming is hard. It takes time and space and attention. It means looking beyond whatever clothing grief has wrapped itself in for the moment, whatever armor or need it's hiding under, and seeing its familiar, pleading eyes. It means gently calling each loss out of the shadows and asking it to move along into the light of the truth. The truth that the ache is real and valid. The truth that even its most broken parts are being redeemed.
And here's the biggest truth:
Someday grief will change its clothes one last time. It will drop all its worn out disguises and slip free into its place in the glory mosaic of God's huge love for us. And we'll finally be able to see it for what it is and call it by its real name.
Grace.
And then we'll worship. Oh, how we'll worship.
"You have turned my mourning into joyful dancing. You have taken away my mourning and clothed me with joy, that I might sing praises to you and not be silent. Oh LORD my God, I will give you thanks forever!" (Psalm 30:11-12 NLT)