Not So Silent Night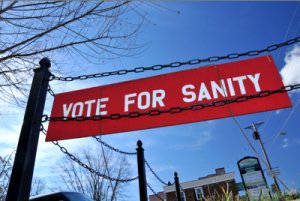 I'm not sure what we were thinking. We had grand illusions of a peaceful get-away to the Virginia mountains. No internet, no cell phones. Just beautiful views, a little unrushed Christmas shopping, and plenty of quiet time to be together.
I don't know why I thought it would be quiet. After all, we brought our kids with us.
The first morning started at 5:22am, when the three-year-old woke the twelve-year-old up and asked her to read a book. While I'm usually thrilled to see my girls snuggling and reading, it doesn't look quite as heartwarming when we're pulled out of bed before 5:30 by the sound of enthusiastic voices and bed rails being used as rhythm instruments.
Keeping two girls quiet for two hours before our hosts got up was… well, it was impossible. The little one has two volumes: yelling and slightly quieter yelling. And you would think by the way the seventh grader walks that she has elephants somewhere in her family tree.
When breakfast was served, they both dove excitedly into their chocolate chip pancakes. Until two bites in, when the little one decided she was full and needed to run in circles around the table while her sister spent more time examining the nativity scene in front of her than chewing.
And this is the way the day continued. Too much whining, too many potty stops, too much sugar. A fun trip to visit a chocolate factory and go out for lunch became an all-out battle of the wills as the three-year-old (who really did need more sleep) expressed her own very strong opinions about everything. Everything.
Whether to buy dark or milk chocolate candies.
Where to park the car.
What to drink at lunch. (Sorry, kiddo. Coke is really not meant for already hyper preschoolers.)
This child does not take kindly to having her opinion ignored. And her older sister is still learning how to be patient with an over-tired, grumpy little girl. (Aren't we all?) So the ride back to our hosts' home felt never-ending.
By the time 9pm rolled around, as the tiny hurricane finally slept, the big girl was still working on overdue schoolwork with forlorn looks and dramatic sighs.
"Oh, Mom," she slumped back in her chair and groaned, "This is the worst vacation ever!"
Her reaction might have been a bit over the top, but in that moment, I couldn't disagree.
I was exhausted, weary to the bone of disciplining, refereeing, redirecting, and educating… This was not what I had in mind for a Christmas get-away. I had been hoping for more being together and less terrorizing each other, more music and less mayhem, more quiet and less chaos. Isn't that what Christmas is supposed to be? Family and peace and silent nights?
   I slumped in a chair, a lot like my melodramatic daughter, and stared blurry-eyed at the holiday decorations taking up every inch of wall and floor space. A small wooden carving of Mary holding her infant Son sat on the mantle.
    Mary cradling the Child who had turned her whole world upside down.
Her experience of the first Christmas was anything but quiet and peaceful. From the moment Gabriel blazed in with his confusing, overwhelming message, Mary's life was never the same. I wonder if Gabriel's statement, "Do not fear," had as much to do with calming her heart for the frightening things ahead as it did with removing the terror from the moment.
By the time Mary's baby arrived, she had already endured whispers and stares and, most likely, rejection. She had faced the very real possibility of being abandoned by Joseph to deal alone with the shame her pregnancy would bring.
She had traveled a long and jarring journey over stony mountain roads. (I remember how uncomfortable even potholes were when I was "great with child"!) And when most women are nesting and resting and preparing, Mary was homeless, shut out of the only housing available in a strange town. And that was just the beginning.
The night we sing about was certainly holy, but it was probably not so silent. The arrival of Jesus was bathed in groans and blood, a young girl laboring in a barn, an uncertain new husband pacing paths in the straw. There were animals doing what animals do. There were rough-mannered, smelly shepherds talking frantically about angels and glory and peace as they tumbled over each other to see the tiny King.
There was worry, frustration, noise, chaos.
    There was Life.
When that baby King grew up, he found a rhythm of pulling away to seek quiet time and then re-engaging fully in the turmoil of life with fellow humans.
He knew that people are not orderly, that our feelings are often unpredictable and unsteady. He knew that joy and worship are sometimes noisy. He knew that life is colorful and vibrant and passionate.
And he came to give us life and give it more abundantly.
There will be Christmases to come that will be calm and quiet, I know. But for now our reality includes begging and fussing, tears over bumped heads, hours of wrestling through schoolwork, loud early-morning voices, lisped Bible verses, tickle fights, chocolately fingerprints, and laughter. Lots of laughter.
Our family is full of life. Abundant, wiggly, energetic, noisy, memorable life.
And, for tonight, that's enough.
"I have come that they may have life, and have it to the full."
John 10:10b