The Gravy Promise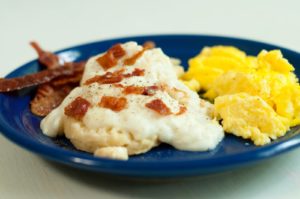 We didn't need words.
We had chicken, fresh off the grill and perfectly juicy.
We had corn on the cob, roasted garlic zucchini, and deep amber honey dripping off buttery biscuits.
We had some gentle quiet at the end of a week of sweet chaos, with their family and ours all under one roof. And we had memories of meals shared on the other side of the Pacific, where a steady thread of holidays and birthdays, weekday dinners and afternoon iced coffees had first woven us together.
As the food disappeared, the words came like a slow tide. We stayed long at the table and talked about graduating kids and losing parents and about how grief feels anything but natural.
The next day our friends got on a plane and flew back to where God has them for this season, and we stayed here where He has us. In this missionary life, we learn to dance to the rhythm of all the see-you-laters, but the steps always feel clumsy. We never get used to that one last hug before we send off people we love with a promise of more shared meals somewhere down the road.
That afternoon, weary and a little blue, I dropped onto the couch and picked up my phone to scroll through neglected emails. The words blurred as my mind did its own scrolling through the faces of all the beautiful beloveds who've shared our table this summer — family and friends from Thailand and Virginia, Australia and Papua New Guinea… So many last-for-now hugs and promises of shared meals to come. I exhaled a breath I didn't know I'd been holding and clicked on the first email, a blog link from an author friend, Leslie Leyland Fields. Leslie had just hosted a workshop on experiencing and sharing God's love through food, and she wrapped up her thoughts on the week with this question: "What was the most loving meal you ever made or you ever ate?"
My family tree grows from rich Kentucky soil, where biscuits and bacon gravy are a love language of their own. The smell of bacon frying always makes me think of my mom dancing in the kitchen, waving her spatula in time with whatever music was playing. There was almost always music. And laughter. And bits of bacon burning dark in the pan as she forgot she was cooking while she twirled us in dizzy circles. I could talk for a while about all the platters and crockpots and bowls of love she served over the years to family, friends, and strangers she brought home from the grocery store, but I knew right away how I would answer Leslie's question.
Almost exactly eight years ago, in the final days of her journey through cancer, my mom asked me for a bowl of gravy. Her digestive system could only process clear liquids at that point, but she said she couldn't handle the thought of leaving for Heaven without tasting bacon gravy one more time. So I pulled out her grease-spattered apron and her music-conducting spatula, put on some bluegrass, and made gravy.
It was watered down enough for her to swallow just a couple tiny bites, but she said that gravy was the best thing she'd tasted in a long time and she couldn't wait to return the favor when I joined her on the other side. My tears made it hard to wipe away the gravy dripping down her pale chin, so I left it there for a minute — a dribbled trail of promised glory. She smiled and fell asleep in the settled knowledge that there will be more music, more laughter, more dancing dizzy circles, more meals together when we're all Home.
I'm still holding onto that gravy promise. Every time I share a table with people I love, even when it's a last-for-now meal, it's a reminder that this isn't the end. There will be more time to make new memories, more contented quiet that rolls into easy conversation, more enjoying a feast of God's love together. Whether it's on this side of eternity or the other, more is coming. Yes, it is.
"Let us be glad and rejoice, and let us give honor to him. For the time has come for the wedding feast of the Lamb, and his bride has prepared herself" (Revelation 19:7, NLT).