Please Don't Get Over It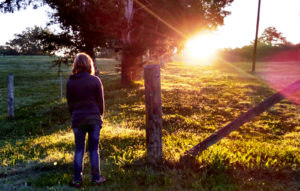 We sat with our friends exactly two weeks after they buried their firstborn son. Baby Ollie's bouncy seat was empty by my feet as we looked through pictures of his gorgeous almond eyes and rose petal lips, and his daddy told stories about the two days they were face to face with him.
Ollie's daddy talked and his mama smiled gently, and their faces looked changed from the last time we saw them. They'll never be the same again.
Time heals, yes.
Life will continue and even be sweet again. They know this.
But their eyes will always hold shadows that weren't there before.
As if they could be anything but different after laying a part of their hearts in the Indiana soil.
There are things about this world that knock dents in the core of us. Broken, terrible things like baby-sized coffins, and cancer that steals mamas, and conversations ended by old age, and unmendable relationships, and sin-wounds that breed more sin-wounds. There are things that upend us and shift our souls in ways that make it hard to recognize ourselves.
We grieve with hope. Yes. Yes, we do.
But that does not mean we get over it.
Please don't get over it.
Grieving friend, dear friend whipped sideways by pain, those shadows are in your eyes because your soul is deepening, stretching, overlapping into eternity. That isn't something to be gotten beyond.
Don't get over it. Don't get over the things that lean hard into your heart, those things that crush your ease and change the way you see. Don't get over the ways your spirit is being moved and reshaped, pressed into the likeness of the One who carried His scars beyond the grave.
Grieve with hope, yes.
Not hope that things will ever be the way they were before, because they won't.
Not hope that you will forget the ache of this season, because you won't.
Grieve, friend, with the hope that the flimsy things of this world will never be enough to satisfy you, because you know there is something more. Weep, feel it deep, and trace the gentle face of the One who comes close to catch your tears. Cry with the hope that we are held firm, and none of this is wasted. Wrestle through it, talk it out, take the time to break open with hope, because the deepest healing comes to those who are broken all the way down.
Let hope strengthen your shivering bones, straighten your slumped shoulders, open your heavy eyes, and draw you forward into a story that's wider and deeper than you ever knew was possible. Let hope quiet your soul so you can hear the bright echoes of eternity just around the corner.
It really is coming.
So please, please don't get over it.
We're not meant to stay the same, to carry on as we always have. What a tragedy that would be.
God is already picking up those shattered pieces of the you that was and putting them together in a new way, a breathtaking shape that catches His glory and flings shimmering hope into the dark corners of a grieving world.
Lift your changed eyes, friend. It's beautiful.
"God blesses those who realize their need for him, for the Kingdom of Heaven is given to them. God blesses those who mourn, for they will be comforted." ~Matthew 5:3-4 (NLT)